---
Published Book on Amazon
---
---
출판된 한글판 도서
---
---
Original Book Contents
---
3.6.3
WI-FI Adapter
If you do not want to connect a specific computer to the network by cable and want to connect wirelessly, both the computer and the network access device must support the Wi-Fi function.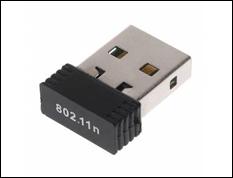 Figure 3‑6 WI-FI adapter
If you want to connect to the network using Wi-Fi in Raspberry Pi, you need to have a device that supports Wi-Fi network in Raspberry. The newest model, the Raspberry Pi 3 model B, provides Wi-Fi as standard, so you do not need to prepare a separate device, but if you want to use Wi-Fi on the previous model, you can buy Wi-Fi parts that support USB port . There are various types of USB Wi-Fi available on the market, so you can buy your favorite items.