---
Published Book on Amazon
---
---
출판된 한글판 도서
---
---
Original Book Contents
---
21.1.2
<Libre Office>
Program
21.1.2.1
Summary of <Libre Office>
<Libre Office> program is a GNU-based free-of-charge office program that provides the most functionality needed to create business documents as follows:
■ Calc -- Spreadsheet
■ Draw -- Vector-based illustration application
■ Impress -- Presentation application
■ Base -- Database
■ Formula -- Formula editor
■ Write -- Word processor
This program basically stores files in ODF (Open Document Format) format, which is supported by most office packages including the latest version of MS Office. Of course, you can choose a different format to save the document when you save it. <Libre Office> is available as a free version for Linux, Windows and OS X.
For more information on how to use the program, please see the following:
■ https://help.openoffice.org/
21.1.2.2
Installing <Libre Office> Program
To use the <Libre Office> program in Raspberry Pi, install the program as shown below. If you execute the command, it confirms whether or not to install the program after checking the installation of the program. If you choose "Continue", the installation process begins as shown below.
pi@raspberrypi ~ $ sudo apt-get install openoffice.org
Reading package lists... Done
Building dependency tree
Reading state information... Done
~
~ Skip
~
After this operation, 295 MB of additional disk space will be used.
Do you want to continue [Y/n]?
Get:1 http://mirrordirector.raspbian.org/raspbian/ wheezy/main libatk-wrapper-java all 0.30.4-3 [31.2 kB]
~
~ Skip
~
Updating certificates in /etc/ssl/certs... 0 added, 0 removed; done.
Running hooks in /etc/ca-certificates/update.d....
done.
done.
Processing triggers for menu ...
21.1.2.3
Running and Using <Libre Office> Program
When the installation is complete, a new menu is added to the window's Application Menu. If you look at the Application Menu [Menu], you can see that [Office] menu has been added and there are various program menus added under it.
The top menu <Libre Office> corresponds to the comprehensive menu screen that allows you to select the type of document you want to create. When you execute the menu, the following screen will appear. If you select the type of document you want to create here, the program goes to the program to create the document. Instead of selecting a document type, you can do the same thing by selecting the desired menu for each document type on the lower menu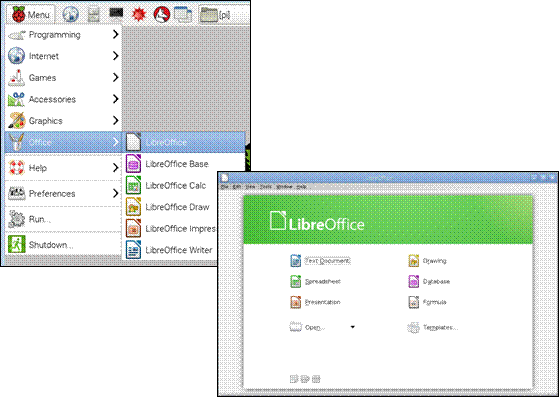 Figure 21‑1 <Libre Office> program
Below is a word processor program screen that can create various text documents.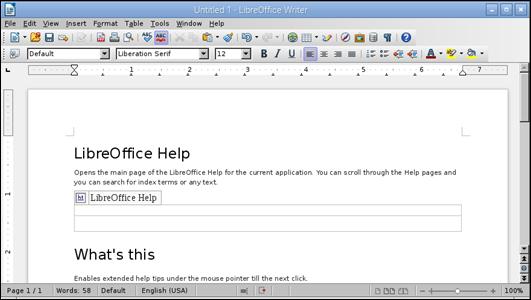 Figure 21‑2 <Libre Office> word processor
Below is a spread sheet program that can be used for calculation works.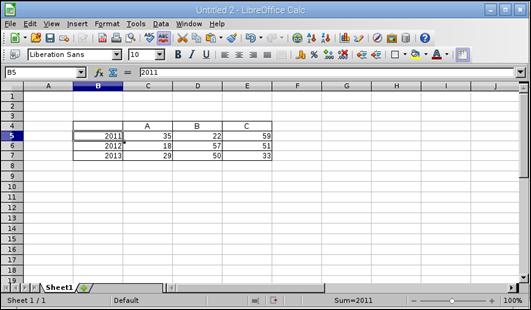 Figure 21‑3 <Libre Office> spread sheet