---
Published Book on Amazon
---
---
출판된 한글판 도서
---
---
Original Book Contents
---
6.1
Overview of System Connection
6.1.1
Basic Diagram of Sysem Configuration
Modern large computer systems usually have the following configuration and interrelationships each other.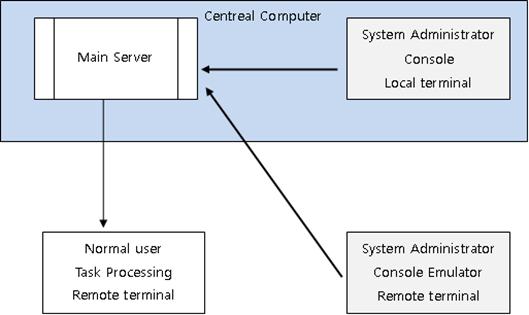 At the center of the computer system framework is the central computer responsible for handling all the computers in the system configuration. This central computer usually consists of one or more main server computers and a console computer for system administrators who manage those computers is connected toit. These are typically managed within a computer room or data center that is managed separately under special control, control access through a variety of physical security devices, and control many unauthorized external connections using many network security devices.
Another member in the system configuration is a general user computer that connects to such a central computer and performs the predetermined functions provided by such an central computer. They perform the necessary processing by using advantage of various programs, databases, and web server functions as well as the powerful processing capabilities of a central computer.
Another consideration is that when a system administrator manages a central main computer, it could only be done through a terminal directly connected to the computer in the past. Recently, due to the development of various network environments and technologies, it provides the ability to manage the main server computer in the same way as it were in a local terminal environment, even if it were in a remote terminal environment. Therefore, it is common for the system administrator to manage system in remote environment these days.