---
Published Book on Amazon
---
---
출판된 한글판 도서
---
---
Original Book Contents
---
21.4
<CUPS> Program - Network Printing
Raspberry Pi requires a separate tool for printing. To do this, you can use a tool called <CUPS> program. <CUPS> (Common Unix Printing System) is a program that provides pinter server function on Unix. With this program, you can print on a printer connected to Raspberry Pi using a USB as well as a printer on the network.
In this section, we will explain how to install and use the <CUPS> program. For more information, please see the following:
21.4.1
Printer Status just before Program Installation
After installing Raspberry Pi, if you check the Desktop GUI window, there is print function like menu FileàPrint in [Leafpad] or menu Setting à Print in web browser. When you try to print using this menu, the following screen appears.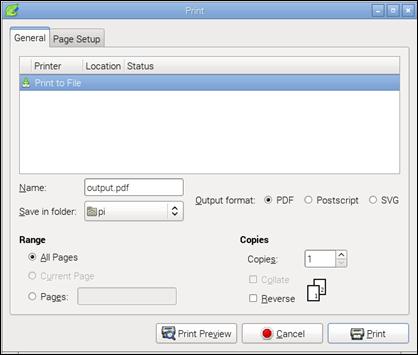 If you look closely here, we can see that the system is not only able to print to the actual printer, but only to the file. This means that the printer is not yet properly installed in the Raspberry Pi system. Of course, it is always possible to print to a file here, then transfer the file to another printable computer and print it to the actual printer. However, other tools are needed to print directly from the Raspberry Pi system to the printer.