---
Published Book on Amazon
---
---
출판된 한글판 도서
---
---
Original Book Contents
---
25.4.4
Kirchhoff

'

s Laws

Kirchhoff's law has a first law of current and a second law of voltage.

The first rule is that on a certain path of current, the sum of incoming currents and the sum of outgoing currents is the same. That is, the sum of the current flowing into one point of the circuit and the current flowing out of the point is the same.

∑ incoming current = ∑ outgoing current

In the following, the current (I1) flowing into the point A and the current (I2, I3, I4) flowing out of the point A have the relation as follows.

I1 = I2 + I3 + I4
25.4.4.2
Second Law
–
The Law of Voltage
The second rule is that the sum of the supply voltage applied to the circuit and the sum of the voltage drop consumed in the circuit is equal
∑ voltage supply = ∑ voltage drop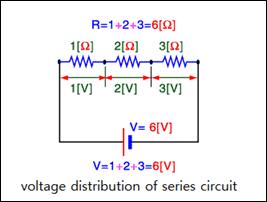 In the above, the supply voltage applied in the circuit is divided into three resistances and consumed. That is, the load will be three resistances and a voltage drop will occur for each resistance. When all the voltage drop of each resistance is summed, it becomes the applied supply voltage.